A safe stay at The Connaught
With Mayfair coming into full bloom once more, we are delighted to begin welcoming guests back to The Connaught. As we prepare to reopen all of our rooms, restaurants and bars from 17 May, we have loved witnessing long-awaited reunions between loved ones at our outdoor spaces, now open. While we look forward to a full reopening, our teams are busy behind the scenes ensuring the safety of both guests and colleagues.
Finally, from enjoying our Dine at Home menus to sampling sweet treats from The Connaught Patisserie, I would also like to take this opportunity to thank those who have continued to support us over the last year.

Until then, with all good wishes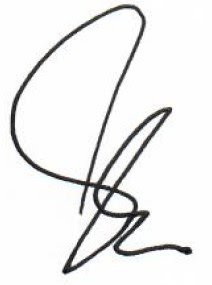 Sandeep Bhalla
General Manager
Jean-Georges at The Connaught Terrace and Aman Spa are now open. Jean-Georges at The Connaught indoor dining, Connaught Bar and Coburg Bar will reopen from 17 May 2021. Hélène Darroze at The Connaught will open from 18 May 2021. The Connaught will reopen for all stays from 17 May 2021, subject to government guidelines.
In line with government regulations, The Connaught is currently open to accommodate guests travelling for specific purposes only. The gym and spa and all restaurants and bars will be closed during this time, with resident guests provided service by in-room dining.
Please view more below.
We will share details of future reopenings via our newsletter.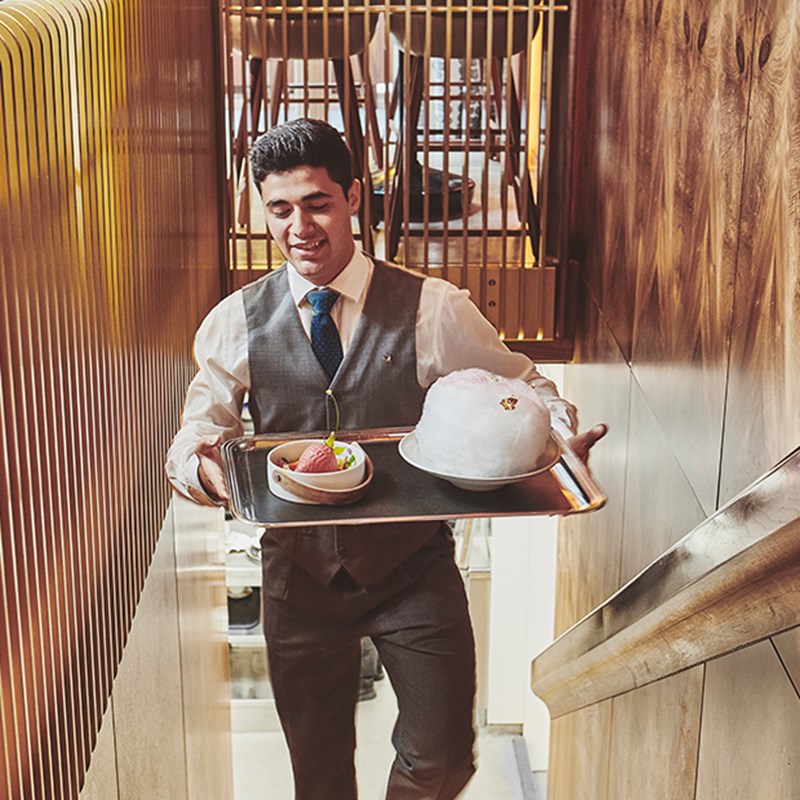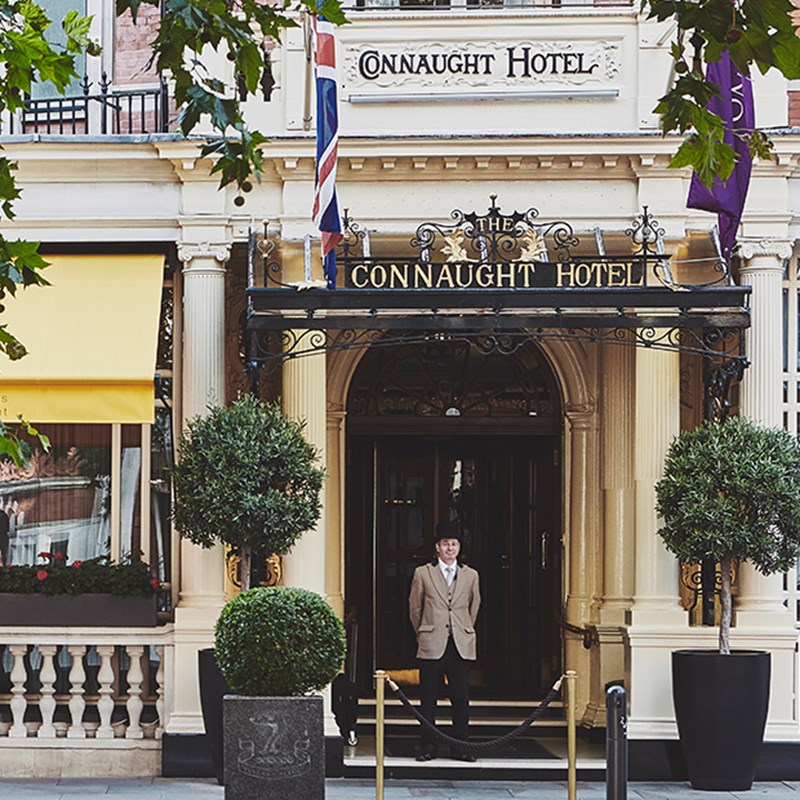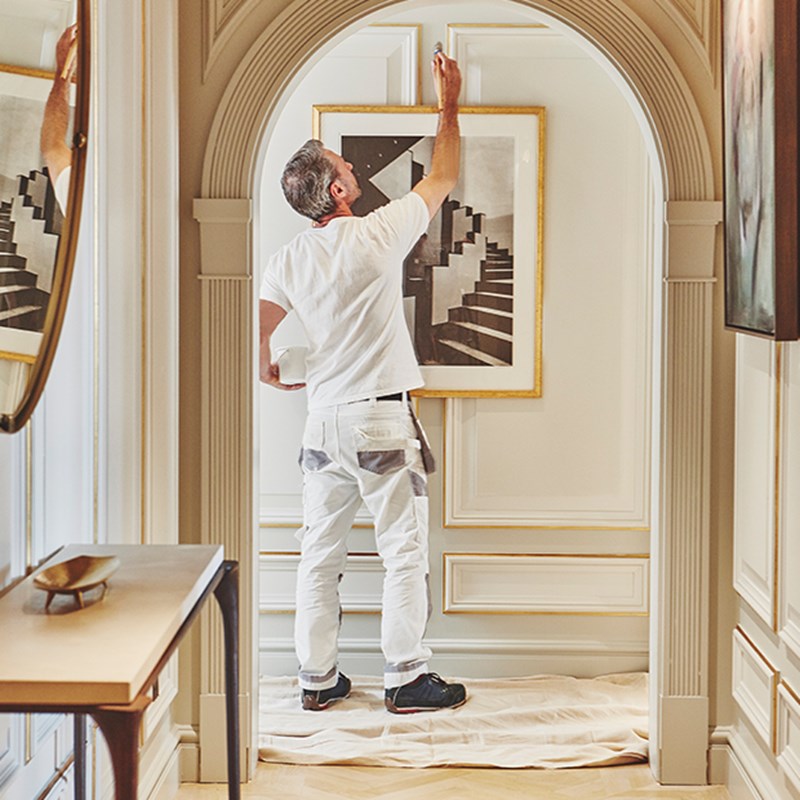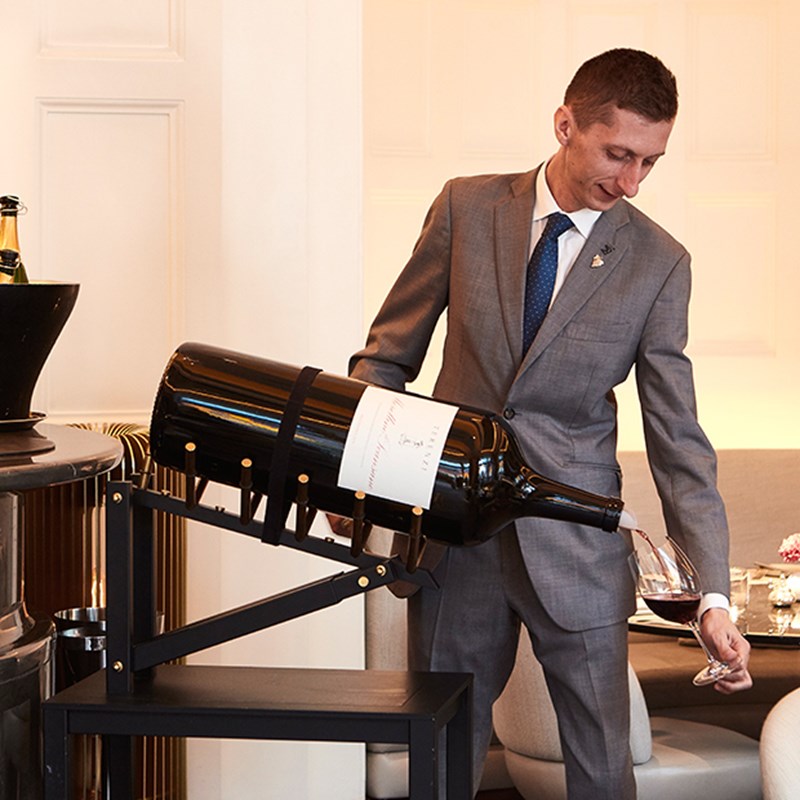 Government regulations
You cannot leave your home or the place where you are living for holidays or overnight stays unless you have a reasonable excuse for doing so. This means that holidays in the UK and abroad are not allowed.
This includes staying in a second home or caravan, if that is not your primary residence. This also includes staying with anyone who you don't live with unless they're in your support bubble.
All international passengers are now required to test negative for Covid-19 before travelling to England. For more information, please click here.
For extensive information on the government regulations and the plan to ease lockdown measures, please click here.
You are allowed to stay overnight away from your home if you:
are visiting your support bubble
are unable to return to your main residence
need accommodation while moving house
need accommodation to attend a funeral or related commemorative event
require accommodation for work purposes or to provide voluntary services
are a child requiring accommodation for school or care
are homeless, seeking asylum, a vulnerable person seeking refuge, or if escaping harm (including domestic abuse)
are an elite athlete or their support staff or parent, if the athlete is under 18 and it is necessary to be outside of the home for training or competition
Your stay
The many modifications we are making for your health and safety will be discreetly done, so you can relax and confidently enjoy your time at The Connaught.
As you arrive
After being greeted by our doorman, we will sensitively talk through the relevant ways in which we will be taking care of your health, personal safety and happiness. You should feel comfortable that every element of your stay will be handled with the greatest possible care.
Thermal imaging cameras have been discreetly installed at the hotel's main entrance. On arrival, you'll also receive a bespoke amenity kit of face masks, hand sanitiser and disinfectant wipes.
Handling with care
Hand sanitiser in touchless dispensers will be available throughout The Connaught including reception, the concierge desk, entrances to our restaurants and bars, and other key locations. Meanwhile our housekeeping team is elevating their already high standards with enhanced cleaning procedures that place particular emphasis on 'high touch' areas.
Enhanced cleaning
Our housekeeping team will rigorously clean bedrooms and suites with products proven to be effective against viruses and bacteria. You can expect linen to be changed and laundered at high temperatures daily, while regular filter replacements are set to optimise fresh air exchange through in-room air conditioning and purifiers.
You are required to wear a mask
All guests of The Connaught are required to wear a face covering in the public areas of the hotel at all times (except while eating or drinking, or if medically exempt). Complimentary masks will be provided at the entrance to the hotel and at our restaurants and bars. For guests who are staying with us, these are also provided as part of the in-room amenity kit.
Safely spaced
We will clearly indicate ways you can maintain appropriate social distancing measures throughout The Connaught.
Dining and drinking
As our bars and restaurants reopen, it will be to a small number of guests at each service, following Government-mandated occupancy limits. Each setting will receive the same rigorous cleaning standards as elsewhere in the hotel, and we will cleanse and disinfect 'high touch' points hourly.
Menus will be available electronically via your personal phone or tablet – with the option for single-use paper versions, should you prefer. If you choose to dine in your room or suite, your meal will be served according to the strictest safety measures.
Contactless payments
Throughout The Connaught, you will be able to make use of contactless payment methods.
Your wellbeing
As always, should you need it, you will be able to seek medical support from our trusted healthcare partner, which includes testing and health check services.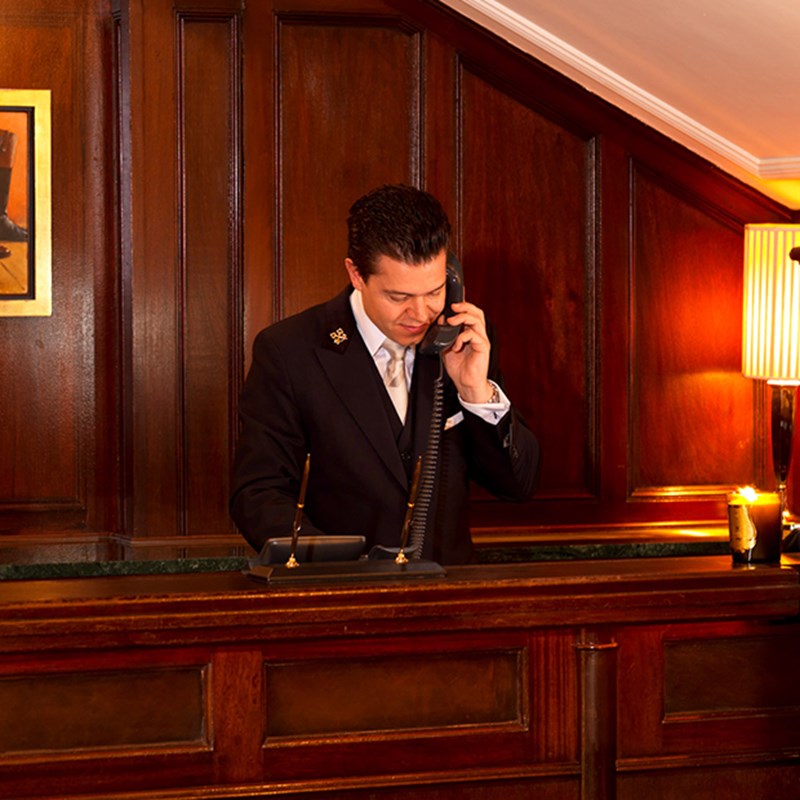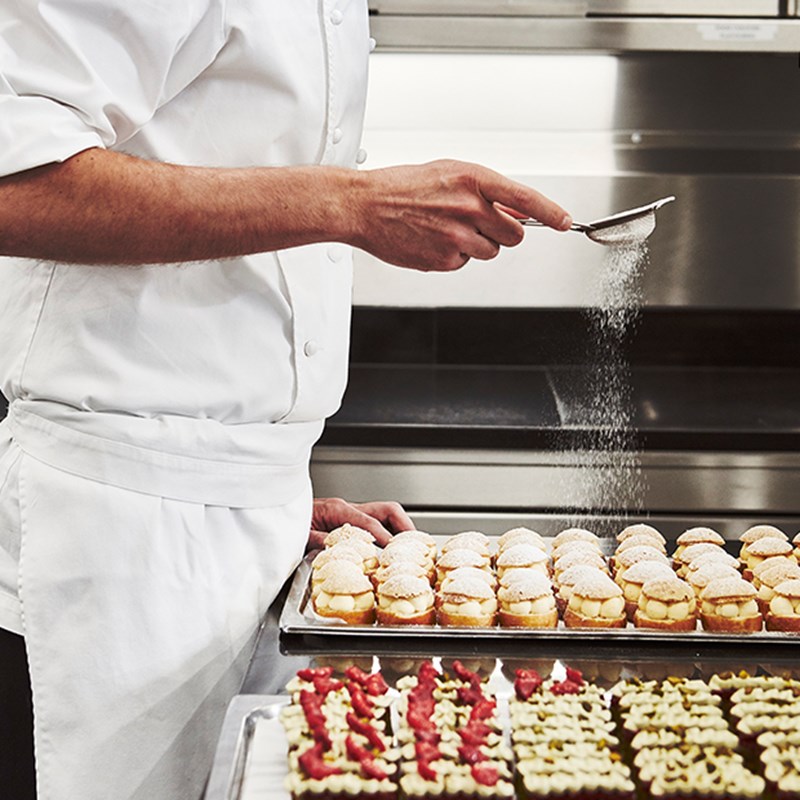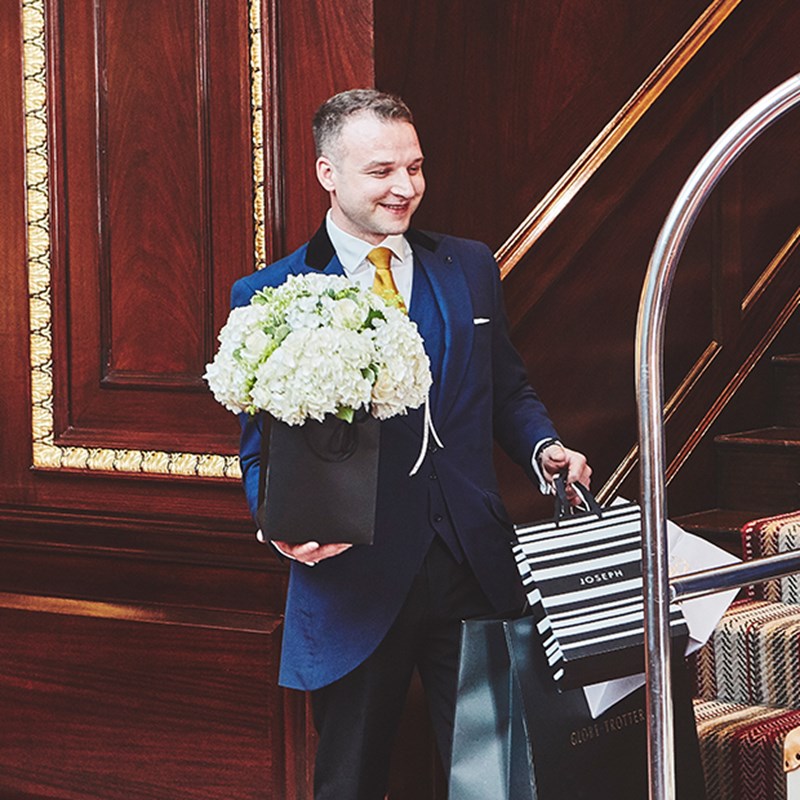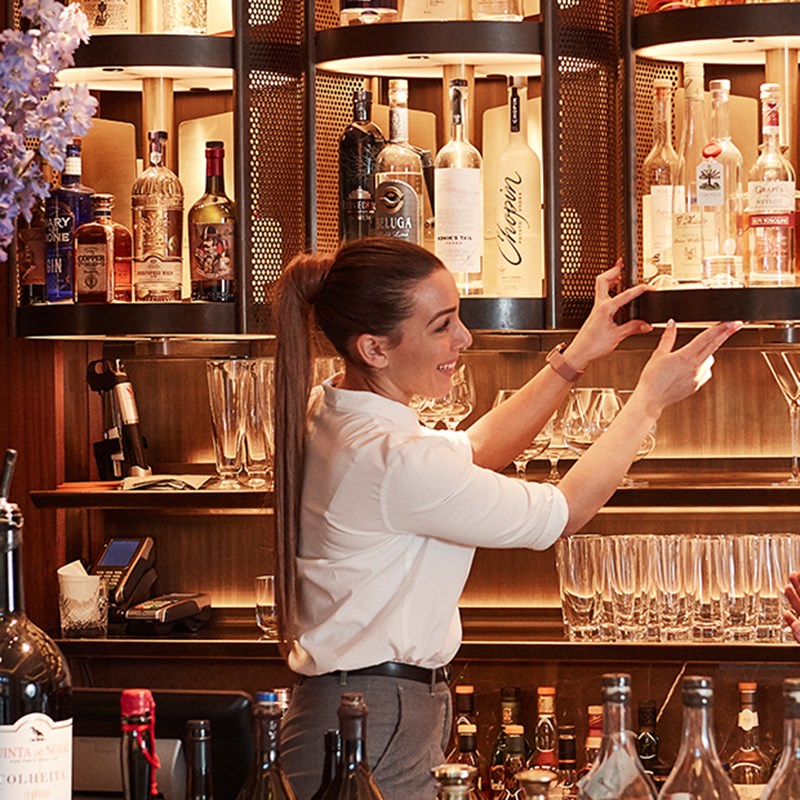 Our people
At the heart of The Connaught is a sense of family. By acting responsibly and taking expert advice, here's how we are looking after the wellbeing of our people.
Testing
On returning to The Connaught, every team member will be required to take a Lateral Flow test bi-weekly. If any employee tests positive or shows symptoms, they will be required to isolate at home while medical assistance is arranged by the hotel, including a Covid-19 test.
Temperature checking
Each day, every colleague will pass under thermal imaging cameras installed at our staff entrance, to monitor their temperatures. All members of staff will also have their own masks, hand sanitiser and other personal protective equipment as appropriate.
Training
As they return to work, comprehensive, regular training is equipping our teams with the knowledge to reach the highest COVID-19 health and safety standards and protocols. All training is driven by up-to-the-minute advice.
Please click here for further extensive details about our health, hygiene and safety measures at The Connaught.