We are constantly adding to the collection of contemporary art at The Connaught. In Hélène Darroze at The Connaught, you will find two beautiful collages by Damien Hirst, Xanadu 2008 and Shangri-La 2008, specially commissioned and designed to fit within the wood wall panelling. They show butterflies laid out symmetrically or in concentric circles and set in white gloss paint. The Coburg Bar has two pairs of Julian Opie laser-cut paper portraits of a wife and husband, from the series Luc and Ludivine Get Married.
In the Champagne Room, an oval skylight is designed to mirror the oval pool of Silence outside the hotel. Sophie Dickens, a modern sculptor (the great grand-daughter of Charles Dickens), was commissioned to create a life-size man diving into the pool – represented by the oval ceiling. Look up and you'll see him. The two photographs in the niches (the former windows of the courtyard) are by Gilles Bensimon, a French photographic artist; and a Cornish seascape by Cindy Buxton. Bensimon's photograph continues the 'diver' theme by representing immersed flowers.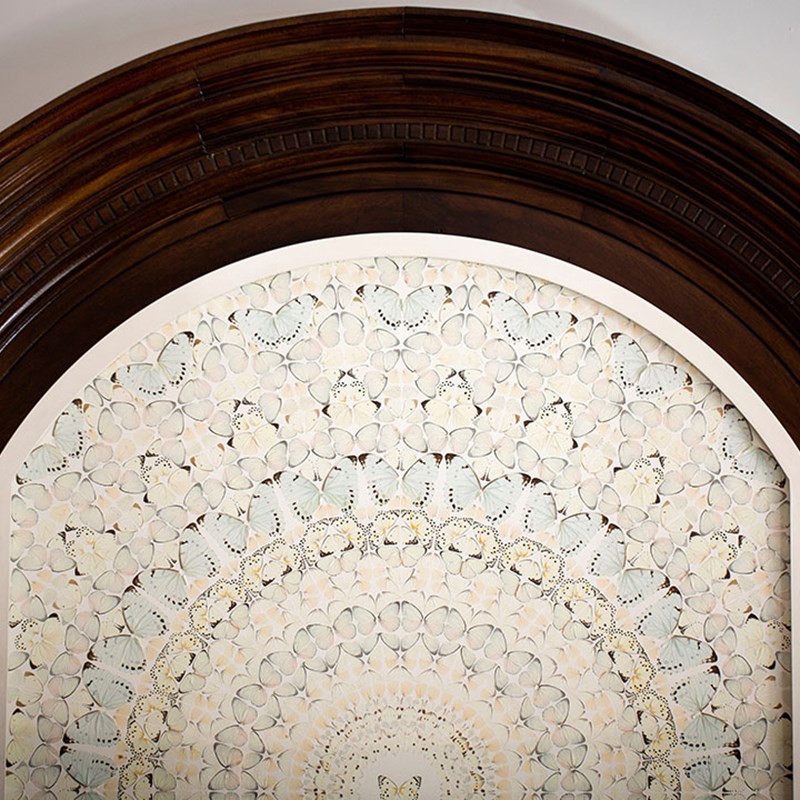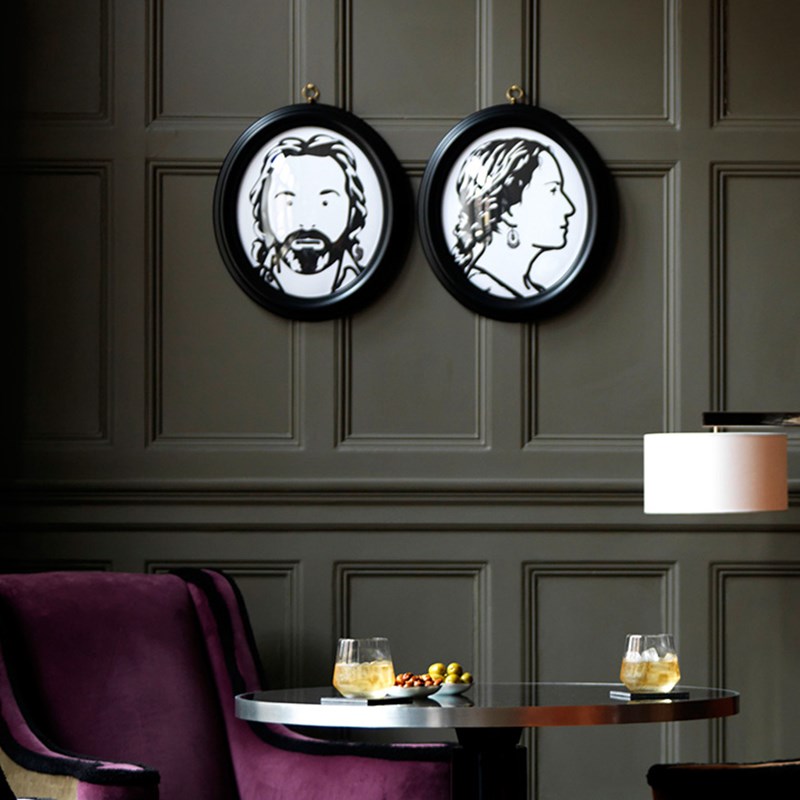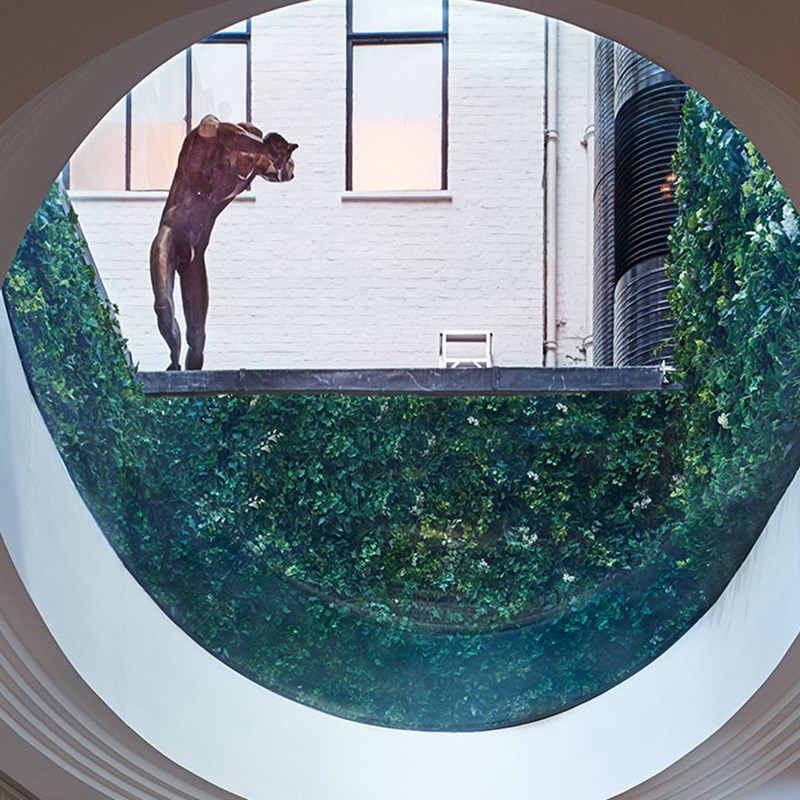 The images on the walls of the second and third floor corridors of the new wing are by the Irish-American artist Sean Scully – they are a set of 12 digital C-type photographs of stone walls, entitled Walls of Aran.
Colour and black-and-white celebrity shots in the new wing and the so-called Sutherland floor are by Slim Aarons (supplied by Getty Images), who photographed society figures in 1960s and 1970s. Many of the images are guests who have stayed in the hotel. They are fun and slightly tongue-in-cheek – intended to make you smile. The pictures in the corridor by the ballroom and the cloakrooms are by the fashion photographer Todd Burris – they are great, stylish images, yet have humour at the same time, and don't take themselves too seriously.
Also located here are stylish photographs by Jose Picayo, acquired from Robin Rice Gallery in New York: These include Reka 2002, a modern sepia photographic print, and Andrea #1 1993, a modern black-and-white print.
At the end of 2017 six works by the French-American artist Louise Bourgeois were acquired. Best-known for her large-scale sculpture and installation art, Bourgeois was also a prolific painter and printmaker. She explored a variety of themes during her long career, including domesticity and the family, sexuality and the body, death and the subconscious. Although Bourgeois exhibited with the Abstract Expressionists and her work has much in common with surrealism and feminist art, she was not formally affiliated with a particular artistic movement. Among these acquisitions is Les Fleurs 2009, situated at Reception; and Femme, c 1960 - an abstract figure of a woman in clay and plaster.
Reception
Les Fleurs, situated at Reception, is one of a series of red flower paintings Louise Bourgeois made towards the end of her life.
Garden corridor
Nic Fiddian Green's Horse at Water 2009, a lead sculpture of a horse's head, is on a plinth on the Garden Corridor stairs. You can see a giant version of this installed at Marble Arch – an important piece of public realm decoration.
Fourth floor
Outside the Terrace Suite, on the fourth floor, are two abstract compositions by Simon Averill: Broken Reflection III and The Space in Between (Diffused Light I). Inside the suite, there are two abstract oils on canvas by Jeremy Annear: Harbour Forms 81 and Harbour Forms 9.
Room 310
Still lifes of fruit and flowers by Guido Mocafico, chromogenic prints acquired from Hamiltons Gallery, are hanging in the sitting room of Room 310.