The Connaught Christmas tree 2019
Christmas arrived in abstract, ethereal form at The Connaught in 2019, as our annual Christmas Tree was revealed as the work of enigmatic and era-defining artist, Sean Scully.
Standing proud beside the world-famous Tadao Ando fountain, this nine-metre Norway Spruce transformed Carlos Place into a mesmerising gallery. A towering, conical palette of four block colours, the tree blended influences from Suprematism and abstract art in a striking reflection of Sean Scully's characteristic style. To complete the dramatic vision, 25,000 light bulbs illuminated the artwork against the night sky.
It's a Suprematist Christmas tree wearing a starry night magician's hat.
Sean Scully
Individual in every sense, it was a truly distinctive festive creation that followed in the trailblazing footsteps of past artists: Sir Michael Craig-Martin CBE, Tracey Emin CBE, Sir Antony Gormley and Damien Hirst.
The unveiling of the 2019 Christmas tree on Carlos Place marked the beginning of the festive season, as visitors from across the city, the country and the world came to The Connaught to admire this unique artistic vision of Christmas.
We have had a personal friendship with Sean for twenty years, and are so honoured that he agreed to add his magical touch to our precious Connaught Christmas Tree 2019.
Paddy McKillen, The Connaught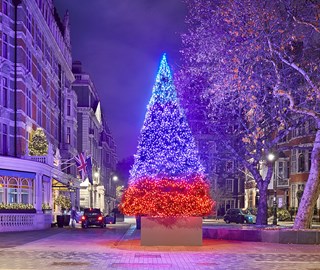 Christmas tree archive
The Connaught Christmas tree has been the anchor of Mount Street during the festive months, marvel at the creative genius dreamt up by some of the top artists in the world.
View archive