Hélène Darroze at The Connaught
From personally tailored menus to the artfully designed dining room, Hélène Darroze at The Connaught is an elegant expression of craft.
In our three Michelin-star restaurant, each dish is grounded in seasonal produce sourced from the farmers, makers and growers carefully chosen by Hélène. And every menu is a reflection of your personal tastes, as our chefs transform your selected ingredients into original works of culinary art.
Pierre Yovanovitch's cocooning interior sets the perfect tone for this intimate dining experience. Blush shades, curved lines, and deep velvet and leather seating reflect the restaurant's warm, approachable ethos. A blue blown-glass chandelier and exposed wooden tabletops add a bold, contemporary edge. Almost every element is custom-made, once again placing craftsmanship in the limelight.
Sample Menus
Taste of Autumn
Taste of White Truffle
Weekday Lunch
Wine List
Armagnac List
Sample Festive Menus
Christmas Eve
Christmas Day Lunch
Christmas Day Dinner
New Years Eve
From 24 December 2021 - 1 January 2022 we will only serve the Taste of the Season menu for lunch and dinner sittings, excluding the festive menu days above. On New Year's Eve there will be no lunch sitting.
Sign up to our newsletter to hear the latest news from Hélène and the restaurant, including what's in season, new menus and recipes from our three Michelin-starred kitchen.
Reservations
Opening hours
Tuesday - Saturday:
Lunch: 12pm - 2pm (last sitting)
Dinner: 6.30pm - 9.30pm (last sitting)
Throughout December we will also open Monday 6, 13, 20 December and Sunday 26 December for lunch and dinner.
The restaurant will close from 2 January and re-open on 11 January 2022 for dinner.
Contact us
Email: helenedarroze@the-connaught.co.uk
Tel: +44 (0) 20 3147 7200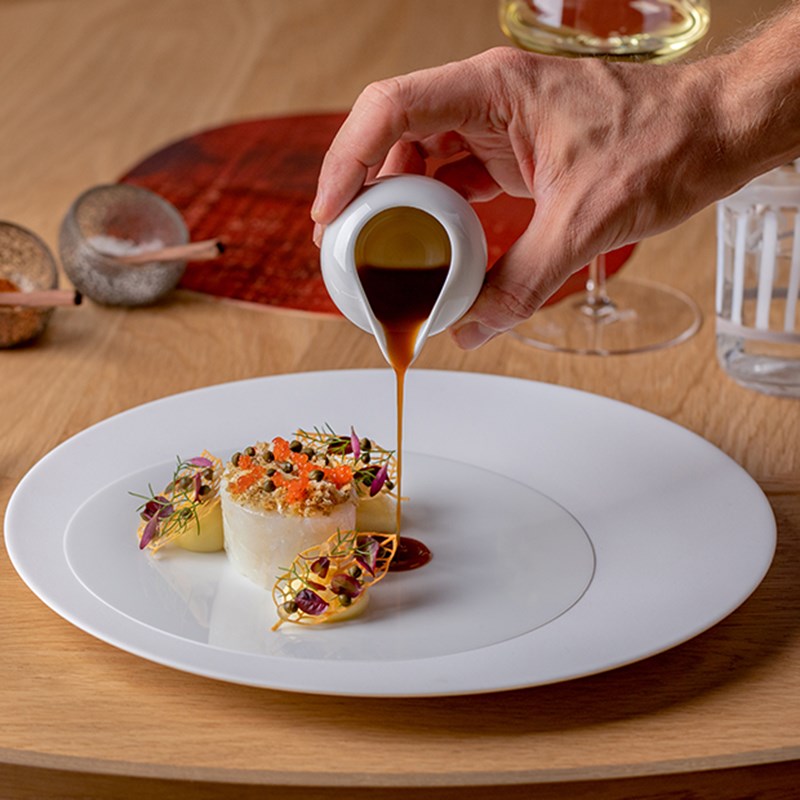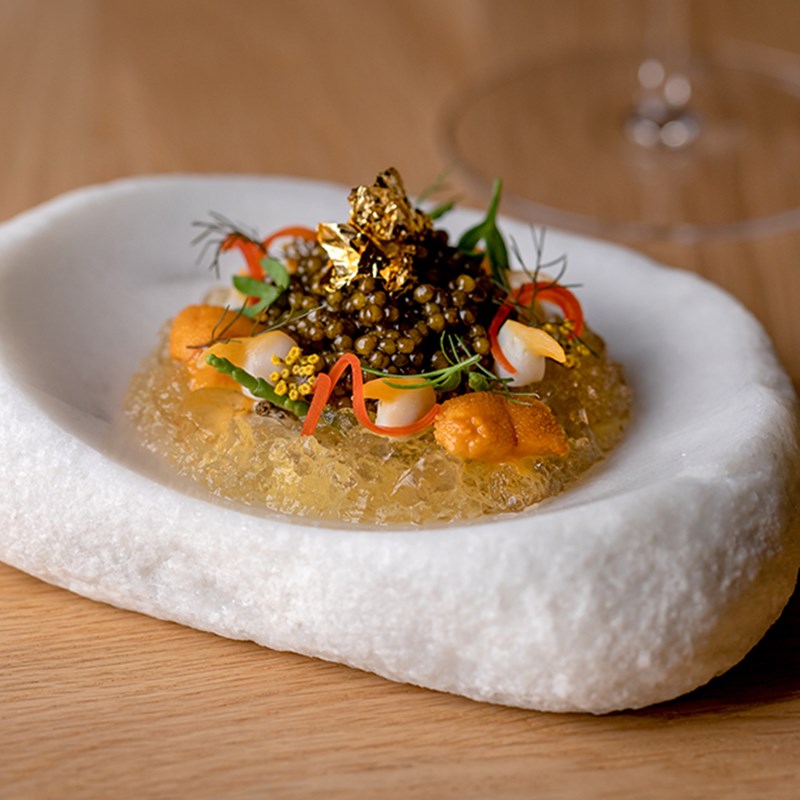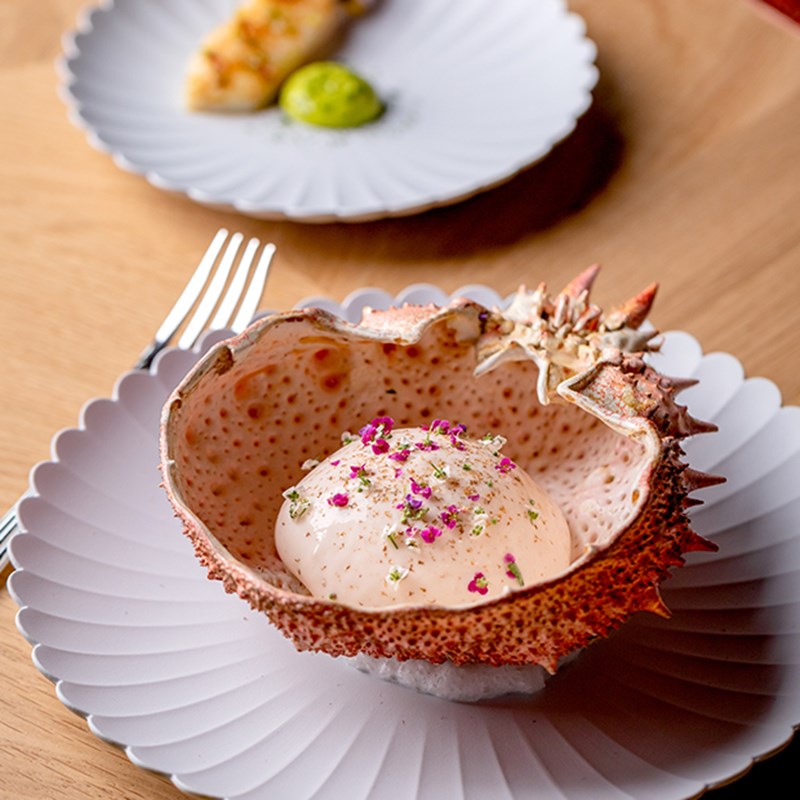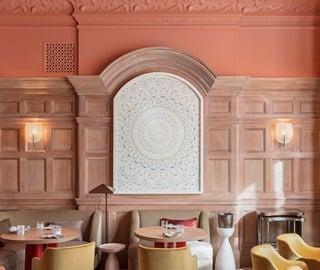 Contemporary Additions
Specially commissioned and designed to fit amongst the ornate wood wall panelling, are two beautiful collages by Damien Hirst, Xanadu 2008 and Shangri-La 2008. Depicting a cluster of butterflies laid out symmetrically or in concentric circles and set in white gloss paint, these works symbolise the power and beauty of nature.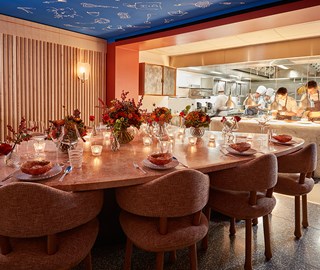 The Chef's Table
Our newly unveiled Chef's Table places you metres from the creative buzz of the kitchen, with a bespoke menu carefully curated using seasonal ingredients.
Find out more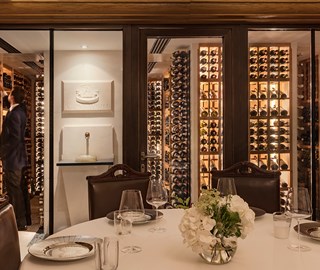 The Sommelier's Table
In our private dining room adjoining the limestone wine cellar, enjoy a personalised dining experience with a difference. Wines are first hand-selected by our sommelier, and then paired with exquisite dishes from Hélène Darroze.
Find out more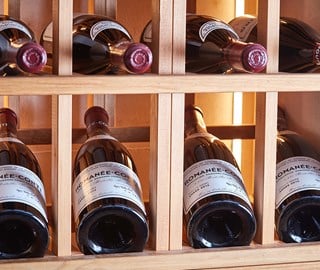 Wine dinners
Embark on a gastronomic journey with our elegant showcase for the world's most prestigious wines, alongside a bespoke menu created by Hélène Darroze.
Find out more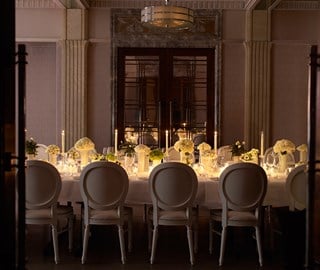 Private Dining
Bespoke menus by Hélène Darroze are available for private events held at The Connaught.
Find out more