The Connaught Christmas tree archive
The Connaught Christmas tree has been the anchor of Mount Street during the festive months, with admirers traveling from near and afar to marvel at the creative genius dreamt up by some of the top artists in the world. Scroll down to explore The Connaught's Christmas Tree designs through the years.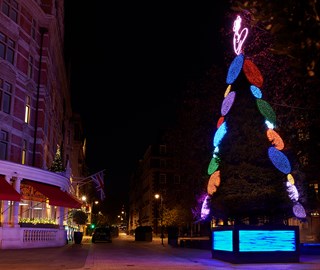 2021: Annie Morris and Idris Khan OBE
The magnificent British sourced Nordmann Fir tree, stood 9m tall on Carlos Place and was surrounded by three interpretations of Annie Morris's Stack sculptures, her most recognisable body of work. Idris Khan's creative focused on an often forgotten element of a Christmas tree – the base - and he designed this with 'support' in mind, reinforcing Morris's sculptures representing the love and support at the very heart of relationships and family.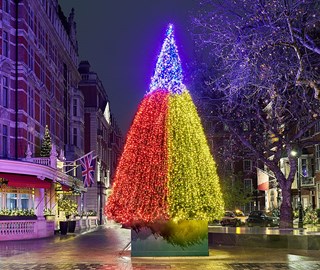 2019: Sean Scully
Standing proud beside the world-famous Tadao Ando fountain, this nine-metre Norway Spruce transformed Carlos Place into a mesmerising gallery. A towering, conical palette of four block colours, the tree blended influences from Suprematism and abstract art in a striking reflection of Sean Scully's characteristic style. To complete the dramatic vision, 25,000 light bulbs illuminated the artwork against the night sky.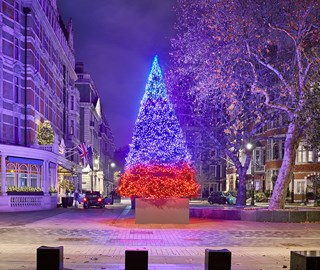 2018: Michael Craig-Martin CBE
A nine-metre Norwegian spruce became the vision of conceptual artist and contemporary icon Sir Michael Craig-Martin CBE. 12,000 digital lights were intricately wrapped around the tree creating a bold, bright and eye catching work of art which was ever evolving with colour continually and fluidly transforming in a carefully choreographed pattern.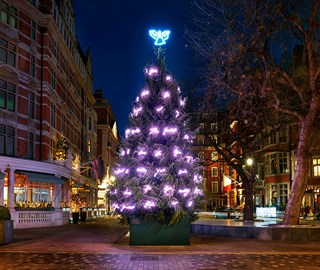 2017: Tracey Emin CBE
Designed by the acclaimed British contemporary artist Tracey Emin CBE, the 2017 tree represented a message of love and hope in the form of a poem exclusively written for The Connaught. Her words were recreated in coloured lights, shaped to represent her distinctive handwriting and positioned so that passers-by could read the poem. At the top of the tree – a magnificent 30-foot Norway spruce – sat a glowing angel, a tribute to Tracey's late mother.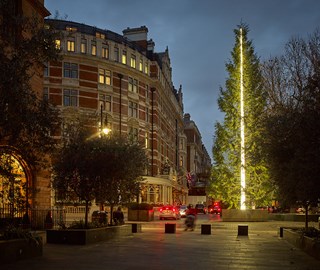 2016: Sir Antony Gormley
Antony Gormley was invited to design the 2016 Connaught Christmas tree. The tree itself was a magnificent Western Red Cedar tree commonly used for totem poles which had been sourced from Shropshire and stood at 17.5 metres tall. The trunk was transformed into a tapering column of brilliant light, across which its branches and foliage wove a constantly changing dance.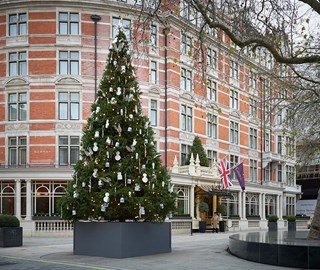 2015: Damien Hirst
The inaugural Christmas tree at The Connaught came from the infamous Damien Hirst. Hirst drew inspiration from the sense of hope derived from the power or science and medicine. The tree was dressed with over 300 decorations including a series of festively reimagined medical instruments, snowmen formed of giant pills, as well as tradition white doves – a symbol of hope, beauty and fragility – and garlands of pink sausages, playfully reflecting the idea of Christmas being a time of plenty.