Afternoon tea – served in Jean-Georges at The Connaught – is an elegant celebration with a touch of theatre. After a day of shopping or sightseeing, relax in this light, atmospheric setting overlooking Mount Street and Carlos Place, and let the experience begin.
The Experience
A journey of taste and texture, afternoon tea at The Connaught starts with a surprise: a savoury amuse-bouche that simply melts in the mouth, accompanied by a glass of champagne if you choose. A collection of finger sandwiches, using a variety of breads, comes with classic fillings, some with a witty Jean-Georges twist. Freshly-baked scones arrive with clotted cream and home-made strawberry jam and lemon curd.
The finale is a presentation of exquisitely-crafted cakes and fancies; the pièce de resistance is a miniature chocolate fondue with strawberries or ginger cake for dipping, depending on the season. It's pure, harmonious perfection: the best of the best.
An English Tradition
Although tea drinking was first popularised by King Charles II in the 1660s, the concept of 'afternoon tea' was introduced in 1840 by Anna, 7th Duchess of Bedford, who asked for a tray of tea, bread and cake to be brought to her room during the afternoon. This pause for tea became a fashionable event, for which society ladies in the 1880s would change into long gowns, gloves and hats. Although we don't stand on such ceremony today, afternoon tea – with a Jean-Georges twist – remains a tradition that The Connaught is delighted to uphold.
Our Choice of Teas
We serve a variety of teas to suit many different tastes. Our traditional black teas include Earl Grey, Darjeeling and Assam. Our green teas, sourced from small, artisan plantations in Japan and China, include gyokuro, jasmine pearls and vanilla-tasting Thé à l'Opéra. If you prefer a herbal or theine-free tea, try our fresh mint, chamomile, canarino or the finest blend of mild, flowery rooibos red.
Reservations

Email: jeangeorges@the-connaught.co.uk
Call: +44 (0)20 7107 8861
Our reservations office is open from Monday-Friday 8am-8pm and from 9am-7pm weekends
Opening hours
Open seven days a week
Afternoon Tea: two sittings - 2.30pm & 4.30pm

£50 per person
With Laurent-Perrier champagne, £60
With Laurent-Perrier Rosé champagne, £70

From 20 November to 1 January we will be serving our Festive Afternoon Tea only
Monday - Friday £75 per person
Saturday & Sunday £80 per person
View Festive Afternoon Tea Menu
View Festive Afternoon Tea Weekend Menu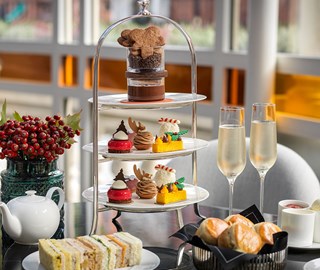 Festive Afternoon Tea
Served from 20 November to 1 January, the festive edition of afternoon tea includes a celebratory glass of Laurent-Perrier La Cuvée champagne and a collection of cakes made by our pastry chefs especially for the season.