Hélène Darroze at The Connaught
From the food to the surroundings, Hélène Darroze at The Connaught is a feast for the senses. Intimate and innovative in equal measure, the restaurant deservedly holds two Michelin stars - every dish an exquisite creation.
Each day begins with the arrival of carefully selected ingredients. Hélène's network of suppliers, cultivated over years of working together, provide only the best, seasonal produce. Then it's into the kitchen to craft a menu that showcases the taste and texture of each ingredient.
It's an experience built on trust. The trust Hélène places in her suppliers to provide exceptional produce. And the trust that diners have in Hélène's culinary skill, as they select from a simple list of ingredients, and wait for the magic to begin.
To complete the picture, this thrilling expression of French culinary craft plays out in truly elegant surroundings. India Mahdavi's sophisticated interior invites you to relax and let your gaze wander to the Damien Hirst artwork on the wall. Glass cloches celebrate the visual beauty of the ingredients found in Hélène's cooking. After all, it is said that we eat first with the eyes.
Please note that, during December, we will be serving a three-course seasonal lunch menu every weekday at £55 per person (exclusive of beverages).
The Sommelier's Table
In our private dining room adjoining the limestone wine cellar, enjoy a 'chef's table' experience with a difference. Wines are first hand-selected by our sommelier, and then paired with exquisite dishes from Hélène Darroze.
Sample Menus
View Weekday lunch Menu
View december weekday lunch menu
View A La Carte Menu
View Vegetarian Menu
View Wine list
Festive Menus
View Christmas Eve Dinner Menu
View Christmas Day Lunch Menu
View Christmas Day Dinner Menu
View Boxing Day Brunch menu
View New Year's Eve Menu
View New Year's Day Brunch Menu
Reservations

Email: helenedarroze@the-connaught.co.uk
Call: +44 (0)20 3147 7200
(Our reservations office is open every day from 9am-10pm)
Opening hours
Monday to Saturday:
Lunch: 12pm - 2pm
Dinner: 6:30pm - 10pm
Sunday:
Lunch: 12pm - 3pm
Dinner: 6:30pm - 9pm
Sign up to our newsletter to hear the latest news from Hélène and the restaurant, including what's in season, new menus and recipes from our two-Michelin-starred kitchen.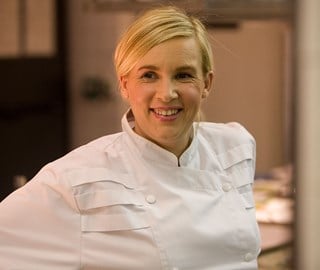 Hélène Darroze & her team
Hélène Darroze brings passion, precision and creativity to her cooking. For winter 2017 she has been named Harrods Chef of the Season and has created a collection of take-home dishes for its famous food halls. To get a feel for daily life at Hélène Darroze at The Connaught, read some insights from her team.
A day in the life
The best ingredients, fresh every day
A chef is only as good as her ingredients. Which is why Hélène works with suppliers who have become her trusted friends, to source the finest daily produce with which to craft the menu.
Try Hélène's recipes
The solitaire board menu
Start with a delicious game. The board is set with 16 marbles, each bearing the day's ingredients. Leave only the ones you want in play.