Embark on a journey into the history behind a unique collection. The Sommelier's Table is the ultimate exploration of The Connaught wines. Led by your private sommelier and accompanied by perfectly matched, Michelin-starred dishes from Hélène Darroze, this is a truly bespoke dining experience.
Over lunch or dinner, you'll travel from the iconic to the undiscovered – from the world's leading wine regions to artisan, family-owned vineyards. Each glass showcases the carefully selected stories of The Connaught's Wine Programme, and the philosophy of its Director of Wine, Daniel Manetti. Inspired by years of tastings and discoveries, and built through close relationships with the producers themselves, the Wine Programme is at the heart of the Sommelier's Table.
It all unfolds in our atmospheric limestone wine cellar, at the foundations of The Connaught. A fascinating discovery in itself, this special space contains 3,000 bins with around 30,000 bottles of wine. They include several private, ex-cellar collections from exceptional producers, exclusive to The Connaught.
We invite you to discuss your wines with the sommelier in advance. Then take a seat to savour memorable menus prepared by Hélène Darroze, with dishes devised to match the wines.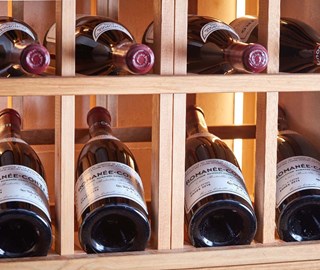 A bespoke experience at the Sommelier's Table
After a private tour of the wine cellar and an aperitif, your six-course lunch or dinner is served. The sommelier will describe the wines as they are gradually revealed. This bespoke experience is perfect for a special occasion or business meeting.