Jean-Georges at The Connaught
Reservations

Email: jeangeorges@the-connaught.co.uk
Call: +44 (0)20 7107 8861
(Our reservations office is open from Monday-Friday 8am-8pm and from 9am-7pm weekends)
If your ideal date is not available to book now, please add your details to our waiting list.
Jean-Georges waiting list
Opening hours
Open seven days a week
Breakfast: 7am - 11am
Lunch: 12pm - 2pm
Afternoon Tea: two sittings - 2.30pm & 4.30pm
Dinner: 6.30pm - 11pm
The Cuisine
The eclectic, imaginative menus are inspired by Jean-Georges' experiences of the Far East and feature his distinctive take on classic British dishes using his signature South-east Asian flavours.
Afternoon Tea at Jean-Georges
Savour a delicious English tradition, with distinctive Jean-Georges twists of wit, humour and flavour.
Find out more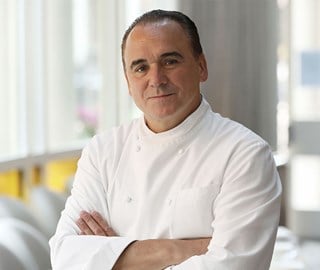 Jean-Georges Vongerichten
World-famous chef Jean-Georges Vongerichten manages and operates 32 restaurants worldwide. Inspired by his travels, Jean-Georges is constantly developing fresh concepts and evolving as a chef and restaurateur.