Drop by the Connaught Bar in Mayfair and step into another world. Conversation flows over sparkling glasses and candlelit tables. Behind the bar, mixologists conjure up new concoctions and time-honoured classic cocktails.
Before you savour that first sip, take in the surroundings. Textured walls in platinum silver leaf and a cool grey bar set a stylish tone. Designed by the late David Collins, the bar evokes English and Irish Cubist art of the 1920s, with a touch of timeless elegance.
From day to night, the Connaught Bar is infused with a relaxed, inviting energy. To accompany your drinks, choose from light menus of bar snacks and evening canapés.
SAMPLE MENUS
Reservations
The Connaught Bar is now closed until further notice.
The Connaught Bar operates a no reservation policy.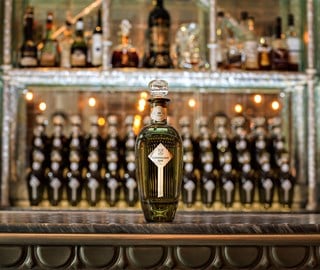 The spirit of the Connaught Bar
Our house-distilled Connaught Bar gin is now available to own for the very first time. Blended and bottled by our master mixologist here in Mayfair, every element is infused with the inimitable character of The Connaught. With a limited collection of hand-inscribed bottles available to purchase online, this is an exclusive opportunity to own a one-of-a-kind spirit.
Taste it first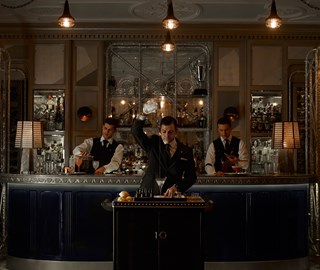 THE FINEST IN EUROPE
The Connaught Bar has been named 'The Best Bar in Europe' in The World's 50 Best Bars 2019. Judged by more than 500 industry experts, the awards celebrate the finest drinking destinations across the globe.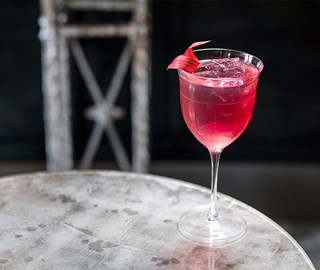 THE VANGUARD
Always moving forwards and pushing the boundaries of what's possible, our master mixologists as the Connaught Bar have created The Vanguard; a collection of cocktails for pioneers, designed to stoke curiosity and fire imaginations.
Stir the senses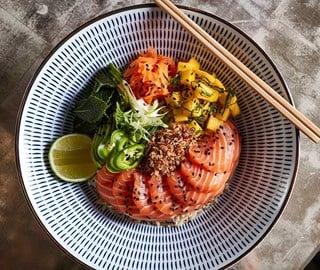 Poké and Spritz
From Maui to Mayfair. Inspired by the seas and shores of Hawaii, poke is the ultimate bowl food – light, bright and full of bold flavours. And a poké bowl served with a spritz is the perfect light lunch, now available in The Connaught Bar.
View menu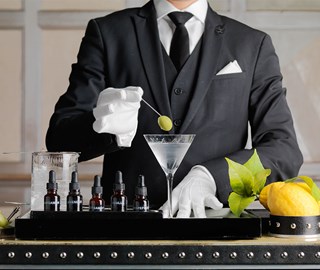 The Martini Trolley: stirring tradition
A cocktail this iconic deserves some ceremony. At The Connaught, our Martini Trolley is set with the makings of the perfect martini. Will it be dirty, a twist or subtly infused with flavour? Decisions, decisions…