Rows of premium spirits and rare vintages, glimmering in the soft light. Armchairs that invite you to stay for just one more. At all hours of the day, the Coburg Bar is sure to captivate your senses.

With its warm, quiet and intimate atmosphere, this is a space steeped in the traditions of The Connaught. Overlooking Carlos Place, the Coburg Bar has become one of Mayfair's best spots to linger. Somewhere to pause, relax and take everything in – whether that's over breakfast, morning coffee or evening drinks.
Sample menus
Breakfast menu
All-day Dining Menu
Late night Menu
Drinks Menu
Whisky Compendium menu
Opening Hours
Monday - Saturday: 9am - 1am
Sunday: 9am - 12am
Reservations
Coburg Bar operates a no reservation policy for all-day dining and drinks.
Child policy
Only children who are resident at the hotel may enter the bar, if accompanied by an adult. Please note that children are welcome in the bar until 6pm.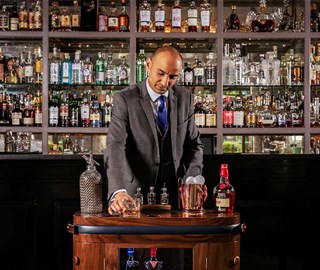 A Guided Whisky Tasting
Embark on a journey of discovery with an exquisite Whisky Tasting experience by the Coburg Bar. Our dedicated Whisky sommelier will uncover the story behind each cask as you are guided through a trio of single malts, perfectly paired with a selection of artisan cheeses.
Book Now
Quiet and intimate
Whether pre-dinner or for a late nightcap, the Coburg Bar is the perfect place to enjoy fine wines, champagne and an inspired cocktail menu of classics and new inventions.
Unique art
Paris-based designer India Mahdavi enhanced the Coburg Bar by reupholstering the original wingback chairs in contemporary, jewel-coloured velvet. Black-and-white cameos by Julian Opie hang on the wood panelling, by the fireplace.