The 5-star Connaught hotel in central London – a convenient Mayfair location
The hotel stands on the corner of Mount Street and Carlos Place in the heart of London's Mayfair Village. It's a convenient location for shopping and sightseeing, with excellent transport links.
Airports
London Heathrow Airport
50 minutes away by car.
Trains run between the airport and Paddington Station.
London Gatwick Airport
One-and-a-half hours away by car.
Trains run between the airport and Victoria Station.
Stations
London Underground
The Connaught is a 10-minute walk from Bond Street station (Central and Jubilee lines) or Green Park station (Jubilee and Victoria lines).
National rail
For services to London Heathrow, Paddington Station is 15 minutes from The Connaught by car. For services to London Gatwick, Victoria Station is 15 minutes away by car.
International rail
The Eurostar runs from St Pancras International Station, 20 minutes from The Connaught by car or London Underground.
Public transport
Taxis: All London taxi drivers will know The Connaught.
Closest tube stations: Green Park/Bond Street.
The Connaught
Carlos Place, Mayfair
London
W1K 2AL
United Kingdom

Tel: +44 (0)20 7499 7070
Fax: +44 (0)20 7495 3262
Email: info@the-connaught.co.uk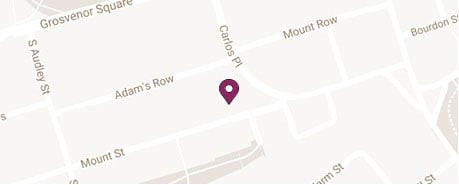 Parking
Metered parking is available in Mount Street and Berkeley Square.
There is also a Q-Park on Park Lane.