Jenny Packham talks bridal chic
From statement silhouettes and tulle trains to hand-sewn crystals that catch the light, every wedding dress is as individual as the bride who wears it.
We recently sat down with our Mount Street neighbour Jenny Packham in her Mayfair Village flagship store to talk about what inspires her bridal designs. Here, she profiles her collections, then and now, and passes on her advice for fashion-forward brides to be.
Finding Your Bridal Look
Best advice for a bride just beginning her wedding gown shopping experience?
Buying your wedding gown is a huge investment and for most people this is the most important dress purchase they will ever make. Take your time to find the perfect gown – try lots of different silhouettes and styles until you find the one that makes you feel truly wonderful. Take a good friend with you who will give you honest advice and most importantly enjoy the process with a glass of champagne in hand!
What are your thoughts on styling?
I love the idea of wearing a statement shoe on your wedding day and accessorising your bridal look. I am a firm believer that accessories should complement rather than compete and would suggest small and dainty accessories work well with a fuller silhouette or an embellished gown.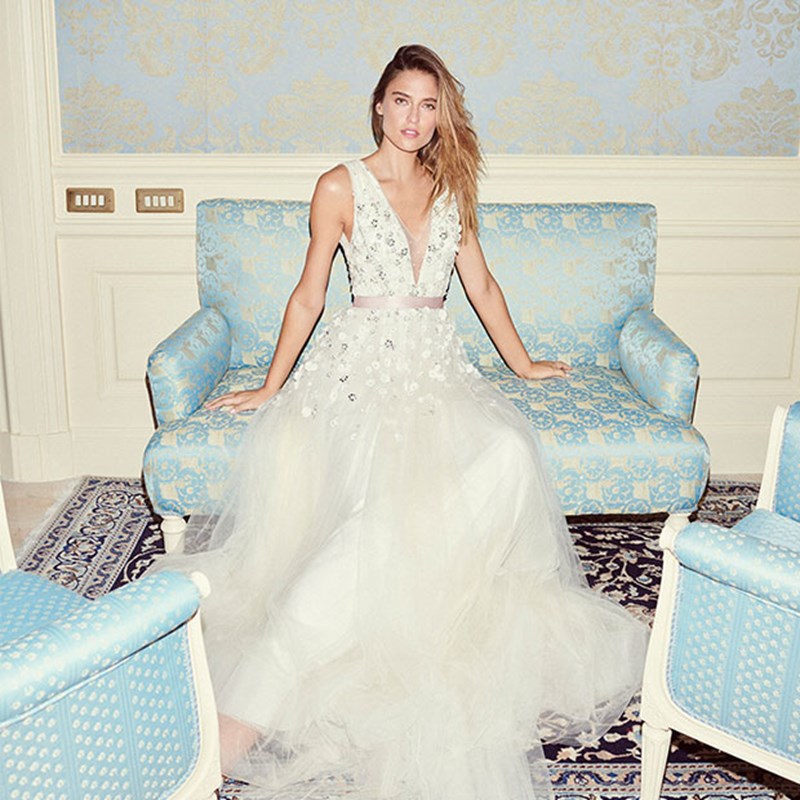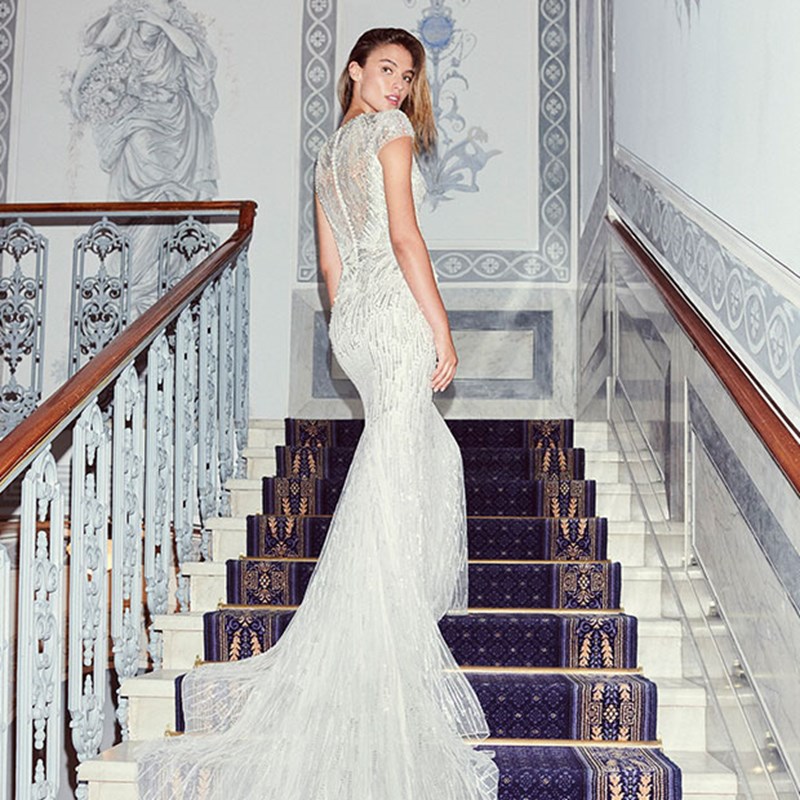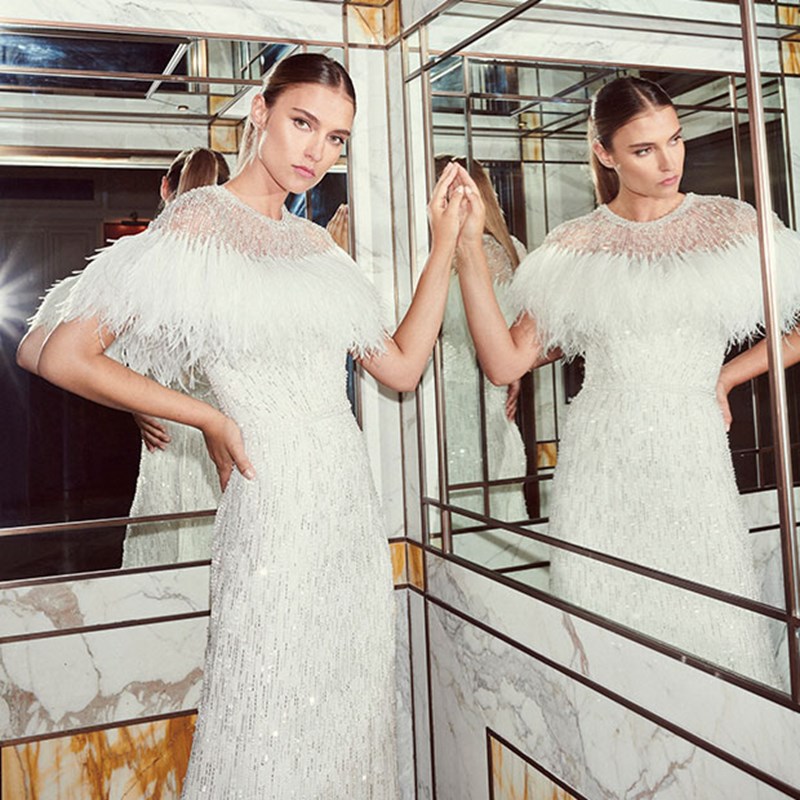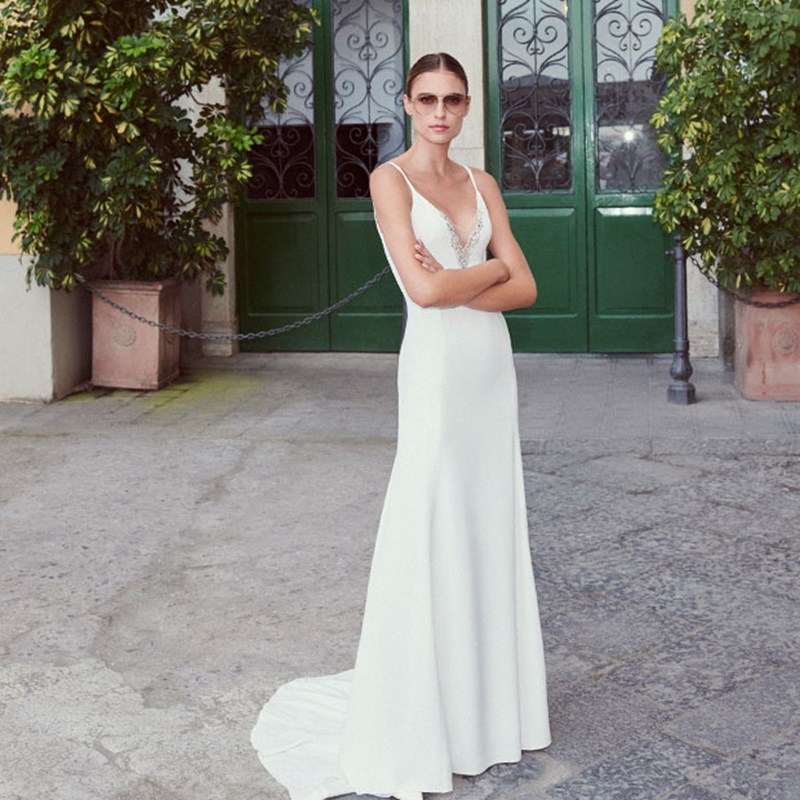 Wedding Trends
What are the latest wedding trends?
Designs and trends are constantly evolving, I love looking through our archive and how styles have changed and, in some cases, come back into fashion. I think capes are popular with our brides at the moment and allow brides to transform their bridal look from ceremony to dancing.
The Work Of A Bridal Designer
How did you come to design bridal gowns? Have you always wanted to be in fashion?
Our first bridal collection launched in 1997, after many brides were requesting versions of our evening gowns in ivory. I have always wanted to design and create beautiful pieces for special moments. I love the process from my initial sketch to sourcing fabrics and seeing the final look in the studio. To create a garment that makes women feel elegant and confident in is both my greatest pleasure and challenge.
Where do you find your inspiration? What inspired your latest Bridal Collection?
I find inspiration everywhere I go from a Spanish Painting to a vintage piece of jewellery. The 2020 Bridal Collection was inspired by the spirit and romanticism of Paris, New York and Buenos Aires.
Is there a certain silhouette that you particularly like at the moment? What is one of your favourite gowns from the 2020 Bridal Collection?
From beautiful ball gowns to slinky silhouettes and ballerina length dresses, I love incorporating a variety of silhouettes into our bridal collections. Colette is one of my favourite gowns from the 2020 Bridal Collection and features sequin floral organza motifs embroidered on tulle – it is romantic and elegant. An all-time favourite is the Rapunzel gown, available exclusively at our Mayfair Flagship. Exhibited at London's Victoria & Albert Museum Ballgowns exhibition in celebration of our 25th Anniversary, Rapunzel's embellished bodice and ivory silk chiffon train feature over five thousand hand-sewn Swarovski crystals - the embodiment of modern ethereal bridal glamour.
How would you describe the Jenny Packham bride?
The Jenny Packham bride is fashion-forward and elegant, her bridal look is modern romantic.