Jean-Georges at The Connaught
Our hotel guests and Mayfair neighbours alike are drawn to Jean-Georges at The Connaught - infused with style, energy and charm, it's ideal for relaxed, everyday dining - from divine breakfasts to late night dinners.
World-renowned chef Jean-Georges Vongerichten brings his signature cuisine to London. Eclectic, imaginative menus draw on his love of the city and his experiences in the Far East. Beloved British and Connaught classics stand alongside South-east Asian flavours, crafted from fresh-from-the-market ingredients and farm-to-table produce. And to drink, there are carefully selected bottles from The Connaught's extensive wine cellars, alongside our famous cocktails.
Enjoy a break from the kitchen and have the inimitable Jean-Georges prepare supper instead. For all those craving his signature market-to-table menus, a selection of dishes are now available for delivery and collection. Sit down to an alfresco lunch of the much-loved (and missed) pizzas including our Squash Blossom pizza and renowned Black Truffle & Fontina pizza. Watch the sun set with dressed kale salad, peppery Wagyu beef and a beautifully dressed chocolate brownie. Or elevate Saturday nights with a Somerset brie and black truffle-topped burger.
Sample Menus
Breakfast Menu
all day dining
Dessert Menu
Taste of valentine's
Wine List
Drinks menu
We also have vegetarian, vegan, gluten free and dairy free menus. Please let us know of any dietary requirements when you make your reservation.
Seasonal Afternoon Tea
Festive Afternoon Tea
Valentine's Afternoon Tea
From 14 November 2023 until 1 January 2024, we will be serving our Festive Afternoon Tea only from £95 per person. On 10th and 11th, 14th, 17th and 18th February 2024, we will be serving our Valentine's Afternoon Tea only from £95 per person.

Bookings are for full dining only and reservations are not available for drinks or desserts. Any guests that arrive for their reservation and only want drinks or desserts will have a minimum spend of £50 per person applied to their bill.
Reservations
Should you be running late for your reservation, please do call us on the following number: 0207 499 7070
Opening hours
Breakfast: 7am - 11am (hotel residents only)
All day dining: 12pm - 12am (last order 10pm)
Afternoon tea: 2.30pm & 4.30pm
Jean-Georges. At Home.
From 12pm to 8.30pm, choose your favourite dishes from our dinner menu and let Supper deliver them to you.
Or call us on +44 (0)20 7499 7070. Available for collection from our hotel reception.
Send a personalised gift via email or post.
The Cuisine
The eclectic, imaginative menus are inspired by Jean-Georges' experiences of the Far East and feature his distinctive take on classic British dishes using his signature South-east Asian flavours.
Afternoon tea at Jean-Georges
Savour a delicious English tradition, with distinctive Jean-Georges twists of wit, humour and flavour.
Find out more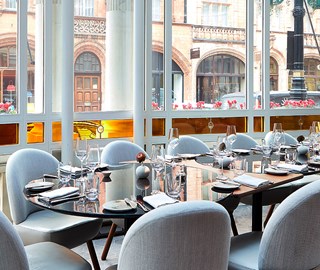 Group Dining at Jean-Georges at The Connaught
Whether you are planning a working lunch, celebratory dinner, or canapé reception, the talented chefs at Jean-Georges at The Connaught can assemble the perfect menu. Drawing on flavours inspired by the Far East and using the freshest local produce, every last morsel is designed to delight.
Find out more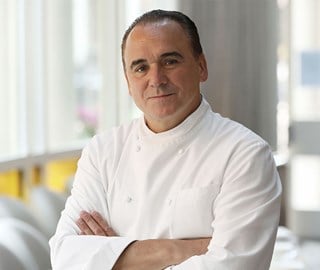 Jean-Georges Vongerichten
World-famous chef Jean-Georges Vongerichten manages and operates 32 restaurants worldwide. Inspired by his travels, Jean-Georges is constantly developing fresh concepts and evolving as a chef and restaurateur.