In a discreet corner of Mayfair, The Connaught has created a private townhouse offering guests the best of all possible worlds: exquisite Connaught hospitality paired with the keys to your own front door.
Tucked away, behind its traditional mews-style entrance in Adams Row, The Mews has been designed over three levels as the quintessential contemporary townhouse. Expertly fusing comfort, convenience and personality, it has two stylish bedrooms, a light open-plan living space overlooking Adams Row and a secret corridor through to The Connaught.
With a chauffeur to drive you from the airport and your own butler on hand at all hours, life is effortless at The Mews. Within this bubble of privacy, you can sink into your oversize egg-pod bath, relax by the fire, entertain someone special to dinner or play a romantic Chopin Nocturne on the grand piano. To return to reality, simply use the connecting door and head for the sociable buzz of The Connaught's bars and restaurants, or the safe seclusion of London's only Aman Spa.
At a glance
2 King beds (twin beds available)
Sleeps up to 4 people
Average size: 223 sq m / 2400 sq ft
Views: Adams Row
Connecting rooms Available on request
Separate private street entrance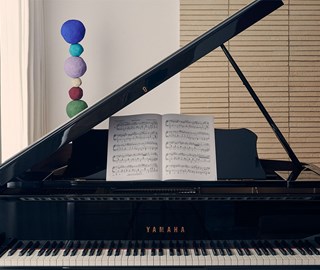 THE KEYS TO A MUSICAL STAY
A highlight of this wonderful open-plan space is a full-size concert grand piano, so you can arrange for a private recital or simply strike a chord yourself.
Highlights
Beautifully-crafted two-bedroom suite designed by architect Michael Blair
24-hour private butler service to meet your every request
Own private entrance plus direct entrance into The Connaught
Balcony with retractable awning for privacy
Open-plan living space with two fuel-effect fireplaces and grand piano
Oversized TV within handcrafted cupboards and shelves
Impressive dining and entertaining space with open-plan preparation area and dining room table
Extensive seating areas
Walk-in wardrobe
Complimentary transfer to and from London airports (including private airports) and railway stations, or valet parking
Amenities
Complimentary Wi-Fi
Welcome bottle of chilled Krug champagne
Fresh flowers by McQueens
Nespresso coffee machine
Minibar with British treats chosen just for you
Burberry trench coats and luxury robes to use during your stay
In-room entertainment system including Bose docking station
Bathrooms
Two bathrooms
Marble master bathroom includes central freestanding bath, twin blue onyx basins and walk-in shower; separate WC
Guest WC
Aromatic and rejuvenating English products made by Cowshed for The Connaught
What would make your stay perfect? At The Connaught, we want to hear about your likes, loves, wants and needs. Please do get in touch with us in advance of your stay, so that we can take care of every last detail.
Tel: +44 (0)20 7107 8945
Check-in Time: 15:00
Check-out Time: 12:00