Hélène Darroze at The Connaught
From personally tailored menus to the artfully designed dining room, Hélène Darroze at The Connaught is an elegant expression of craft.
Hélène à la Maison
From our Michelin-starred kitchen to your dining room, Hélène à la Maison is a unique opportunity to have five beautifully prepared and presented courses delivered to your door. Each celebrates Hélène Darroze's gastronomic flair, and has been carefully crafted to reflect the rhythms of the season.
The menu begins with a selection of the chef's signature dishes with the showstopper dish changing on a weekly basis. Meanwhile, amuse-bouches and extra-special touches elevate the experience even further, with sommelier-chosen wine pairings available for indulgent final flourishes. Every order is accompanied by instructions on how to prepare and simply cook the dishes at home.
In our three Michelin-star restaurant, each dish is grounded in seasonal produce sourced from the farmers, makers and growers carefully chosen by Hélène. And every menu is a reflection of your personal tastes, as our chefs transform your selected ingredients into original works of culinary art.
Pierre Yovanovitch's cocooning interior sets the perfect tone for this intimate dining experience. Blush shades, curved lines, and deep velvet and leather seating reflect the restaurant's warm, approachable ethos. A blue blown-glass chandelier and exposed wooden tabletops add a bold, contemporary edge. Almost every element is custom-made, once again placing craftsmanship in the limelight.
Hélène Darroze at The Connaught is closed until further notice.
Reservations
Opening hours
Lunch:
Thursday - Saturday: 12pm - 2pm
Dinner:
Tuesday - Saturday: 6pm - 7.30pm
Contact us
Email: helenedarroze@the-connaught.co.uk
Sign up to our newsletter to hear the latest news from Hélène and the restaurant, including what's in season, new menus and recipes from our three Michelin-starred kitchen.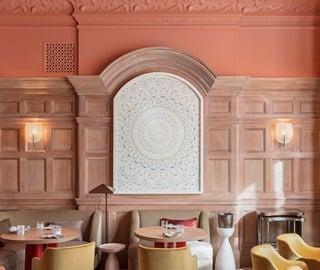 Contemporary Additions
Specially commissioned and designed to fit amongst the ornate wood wall panelling, are two beautiful collages by Damien Hirst, Xanadu 2008 and Shangri-La 2008. Depicting a cluster of butterflies laid out symmetrically or in concentric circles and set in white gloss paint, these works symbolise the power and beauty of nature.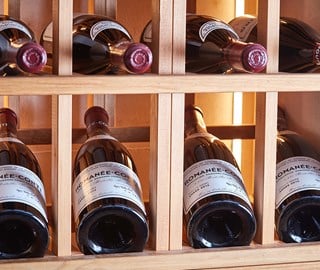 Wine Dinners
Embark on a gastronomic journey with our elegant showcase for the world's most prestigious wines, alongside a bespoke menu created by Hélène Darroze.
Find out more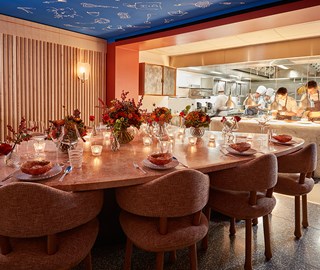 The Chef's Table
Our newly unveiled Chef's Table places you metres from the creative buzz of the kitchen. Overlooking the pass, just a handful of guests are seated at a pink marble table set on a Terrazzo dais, with bespoke Matteo Gonet for Pierre Yovanovitch lamps shining a chic spotlight on the food. From here, chefs showcase their culinary talents, answer questions and personally present the dishes, adding richness to a unique dining experience.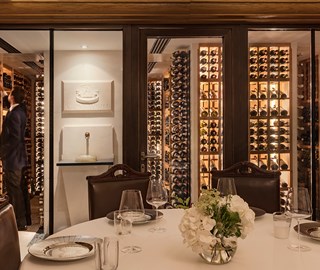 The Sommelier's Table
In our private dining room adjoining the limestone wine cellar, enjoy a personalised dining experience with a difference. Wines are first hand-selected by our sommelier, and then paired with exquisite dishes from Hélène Darroze.
Find out more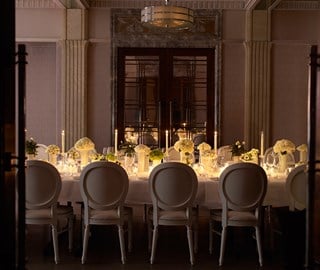 Private Dining
Bespoke menus by Hélène Darroze are available for private events held at The Connaught.
Find out more